The sorry state of education in India and challenges as an edupreneur
As I received the Young Entrepreneur Award at the end of last month in Patna, I was also asked to address the audience on my views on entrepreneurship. The 800 strong audience comprised of mainly youth from the state of Bihar, and the event was aimed at encouraging more of them to become entrepreneurs.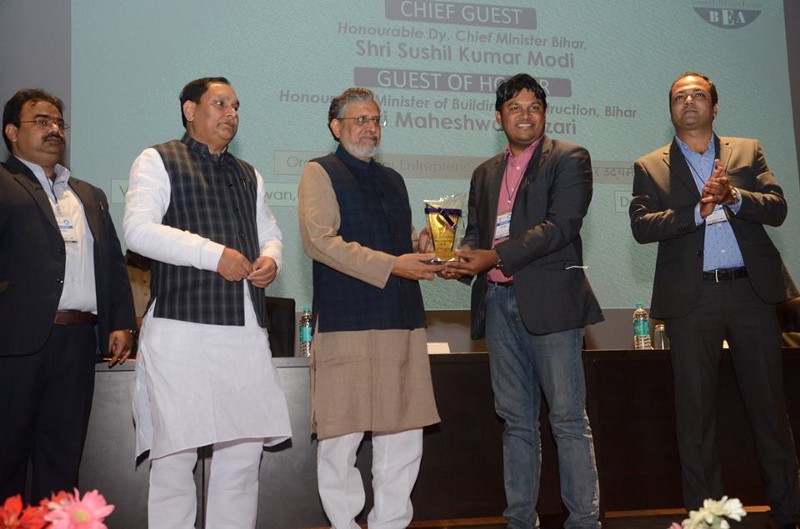 Here is an English transcript of my talk from the event.
My name is Kshitiz Anand, and I run an organisation named Happy Horizons Trust in Saharsa, which is affected by the Kosi floods every year. We work a lot with the youth, and we are trying to improve the quality of education in the government schools. We run a scholarship program for the youth, and with it, there is a certain economic development that happens for the family. In our work, we have a lot of importance to storytelling. We firmly believe, that whether it is a child or an elderly, they have a keen interest in stories. All of you like to listen to stories?
(Audience: Yes)
Let me tell you a small story. A few months ago, I was traveling across the village called Chakbharo in rural Bihar. This is a community of extremely backward people (the Musahars, the rat eating tribes), and I met one such family, where a lady (the one in red in the below photo), must be around 35 years of age, had eight children. That was a turning point in my life so to say, and I still get goosebumps everytime I tell this story. And in all probability, that lady by the time she is 40, she would become a grandmother.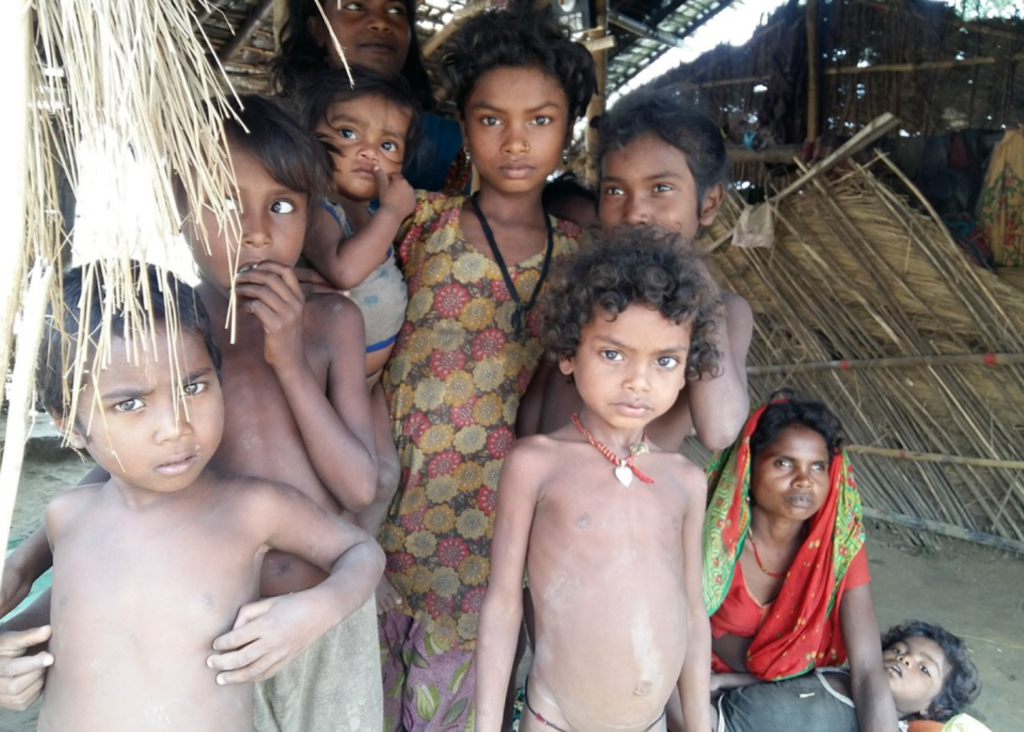 So deep within me, everyday I have this one pertinent question, that whose fault is it anyway? This is something that I want everyone attending this seminar today, at the end of the day, that whose fault is it? Because we are very skilled at that. We always like to point fingers at the others. Its due to someone else, and he could not do it so it did not happen. This did not happen for so and so reason.
So is it the fault of the child, who does not have the food. Some said, to make the schools, and get the midday meals started and children will come to school. The kids will get an education as well as the food. One arrow two targets. But even then, today in Bihar, almost 80% of the children are suffering from malnutrition. Whose fault is it?
Children come to the school, teachers are also recruited and the funds are also alloted. But even then today, only 50% of the children in class 5 are able to read a class 2 text. And the areas where we work, Saharsa district, Supaul, Madhepura, Khagaria, the flood prone regions, students are unable to read even one sentence in Hindi even in Class 8 and 9. One sentence. Forget a paragraph. Whose fault is it?
And there are many children who drop out after class 8 and 9, that is around age 14–15 years, take a Gareeb Rath (train) and go to Delhi and Punjab.
Let's have a look at the children who do end up staying in school. You all must have heard the story of the board exams toppers in Bihar state board. The whole country listened to it, so much that even people around the world heard it. Why does our blood not boil? Why don't we ask ourselves, whether this situation can be improved or not.
We have never emphasised on critical thinking. Infact, we have always criticised it. If a student asks a question, two lashes, if you shout and talk, four lashes. In this manner, we have killed the ability of students to ask questions and their desires. Whose fault is it?
There is a rush to get a job. Whether it is a permanent job or on contract teaching. Come let's become a teacher. When there is nothing left to do in life, lets just become a teacher. That is a profession that is always there. It is a safe bet. We can sort our lives, and that of our entire family as well. We will work for a few years, and then our lives are set. But even then we have a shortage of around 280,000 elementary school teachers. Just elementary schools. Forget middle and high schools. And then we say that we have a lot of youth and a huge population. Whose fault is it?
And for the people who do end up finishing school, the very few that end up finishing schools, stats tell us that just around 20% of our graduates are employable in the country today. Whose fault is it?
We have two choices, one is to just ignore all of this and leave the state in search of greener pastures, or get determined to change something. Thanks to the BEA (Bihar Entrepreneur Association) and the team, today we have an opportunity and a platform that we can leverage and do a lot of things. Just so that, tomorrow we do not say that fault was just mine to not have tried.
— — — —
A followup question that came up from the audience.
"Don't you think that the education in Bihar needs to be a systemic change and that it is too huge a task?"
My Answer:
Yes. Agree that there is a whole system level change that is required. You need to however start somewhere. Pick up any thread be it primary school education or teacher training or school infrastructure development. There is so much work to do in all of it, that a whole life can be spent. But the key is to start. That is my sincere request to all of you.