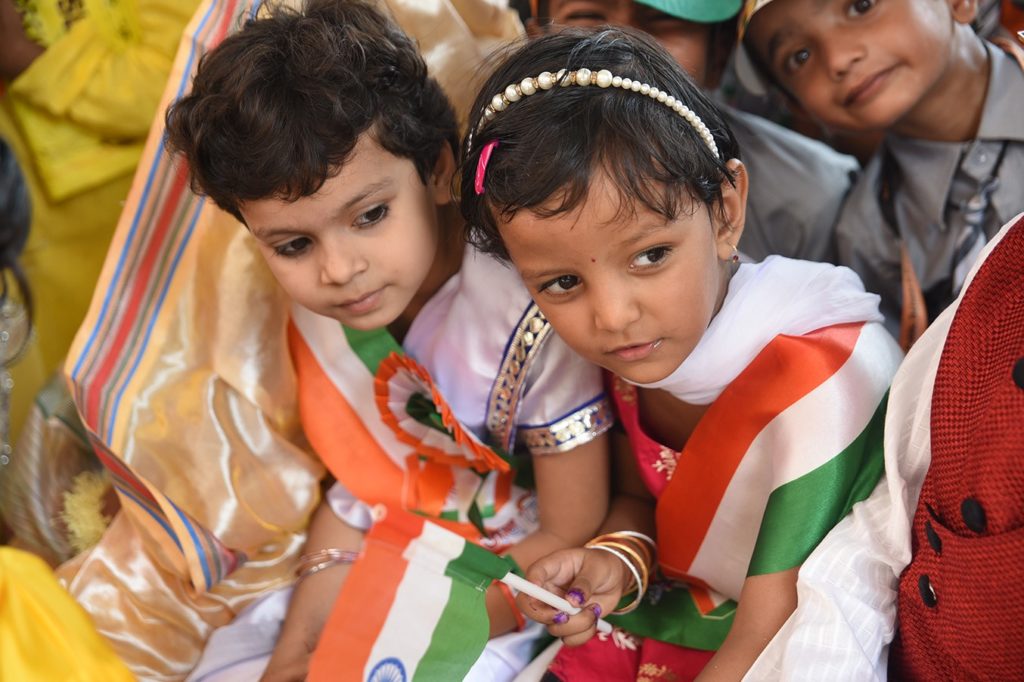 Mail sent to my team at the end of 2017.
— —
Dear Team,
What a year it has been for us at the Happy Horizons Trust. We have been through a wonderful ride, and I am so fortunate to have you all in this amazing journey that we are taking forward. It is only with your commitments and support that we are able to do what we have been doing. I want to take some time to reflect back on the year that was and what the coming year holds for us.
We started the year with the Fun with Typography workshop at the World Book Fair, and it was only due to the commitment of you all that we were able to deliver such an impactful workshop even within the 20 minutes time slot that we had.
Later, we got the news of the selection to the Teach For India's TFIx incubation program. Getting to collaborate with one of best non-profits in India working in the domain of education is hugely inspiring to all of us. The incubation program that started later in May turned out to be so beneficial for the organisation that we are forever indebted to them.
Through the TFIx program, we attended numerous workshops in the past year. Our first learning circle happened at Munger in August in a residential program at the iSaksham premises and later one at Aavishkaar at Palampur in November. There is so much to learn from each of these organisations and other ones that are a part of the incubation program. TFIx's interventions has helped us get a lot of clarity on our program design, budgeting, defining organisation values and key strategies. I confess that it was only during these learning circles that we flipped the conversation to keep the child at the centre of our work by empowering the local youth. We truly developed a sense of understanding what it takes for us to firmly believe in the vision that all children can one day attain excellent education. Through their support we are now soon going to operating in the entire Saharsa district working with close to 35 schools directly.
It is always good to get the support of a leading corporate to believe in your work. I have always held high respect for Azim Premji and his vision of driving change in the society with the commitments that he has made towards philanthropy in India. So we were thrilled, when me and Vatsala were selected to the Wipro Seeding Fellowship program, and a part of the Wipro Applying Thought in Schools (WATIS) program. Through their support we are able to engage better with the teachers and drive our Teacher Training and Leadership Development Program in Bihar.
Our collaboration with Indiana University's Kelly School of Business will have students from one of the top 20 Business school in US work as consultants with the organisation. It is a matter of pride and honour that we are able to work in this manner. Starting mid January, two teams of 4 consultants each will be helping us in putting together a short term and long term strategy for our Marketing and Financial Planning and Strategy.
Later in the year, our collaboration with the District Magistrate office and the District Education Officer, promises a lot more work in the field of education. It also provides us an opportunity to lead education reform efforts in areas where there is hardly any other interventions.
The year end came with a couple of awards and that to me is a good way to end the year. It inspires us to a lot more.
We were recognised by the Government of Bihar, at the Young Entrepreneurs Summit organised by the Bihar Entrepreneurs Association at Patna. We are in immense gratitude to Shri Sushil Modi ji, Deputy CM of Bihar for the award bestowed upon us. Myself winning the Young Entrepreneur Award will allow us to be more connected with key personalities in Bihar, and with the upcoming setting up of the Patna office, we have a task at hand already.
As our organisation works a lot to empower girls, it was only befitting that our co-founder Vatsala was bestowed the Special Jury Award by the Department of Science and Technology (DST), Government of India, through the WEE (Women Enterpreneurs and Empowerment) program hosted at IIT Delhi. The award was given by the director of IIT Delhi. Through this award we are hopeful of being able to collaborate more with IIT Delhi and the DST as highlighted by the Director Mr Rao at the prize distribution ceremony.
We bid adieu to 2017 with an immense amount of gratitude for all the people who have believed in our cause, and supported us in different capacities. We thank everyone for the belief they have in us and our work. Whether it was a friend who hosted a fundraiser for us on his daughter's first birthday, to friends who have helped in cash or kind, to someone who went all the way to speak to so many more people about our work to raise funds. There are countless number of people who have taken notice of our work, and are more than willing to help out more. That is motivating!
The past year stretched us to come out of our comfort zones and challenge us in different capacities. Our reaching out to every block in Saharsa district for the 30 new champions, gave us a much better understanding of the socio-economic-cultural-political landscape of the region. The experiences of these travels are something we will cherish forever and use it to strengthen out our operations better.
The year also got us immense publicity in terms of articles that was written about our work and the new education paradigm we are creating. Amongst others, the Better India and The Logical Indian wrote about us and through these articles, we developed new relations with people and they became our supporters. These further enhanced our self belief and the hope for the cause we are all working towards.
The coming year 2018 promises to be more exciting for all of us for we will be working at the district level with support from state and central bodies, collaboration with a foreign university and more individuals on board. With more employees and a larger team to lead there will be more set of variables to think about. Very soon we will be a 40 person strong team and it scale comes with own set of challenges. We will need to remain humble, learn from our mistakes and execute our vision with an immense amount of passion and gratitude. In the journey, we will celebrate our successes and stand by each other in tough times.
I am sure that the year ahead for us is going to be immensely fruitful. I wish you and your entire family a very Happy New Year 2018.
Warm Regards,
Kshitiz Anand
CEO, Happy Horizons Trust